The Asian factories involved are Smile & Kader (both No COO). Later on Kader's tooling was acquired by Lili Ledy to produce and distribute figures within the Mexican market.
UK & European distribution was handled by Smile using imported Kenner cards prior to the Trilogo release. In North America however Smile shared distribution with Kader with the exception of the Canadian bi-lingual French/English cards which Smile produced. After Kader ceased production of the Han Solo in Trench Coat figure, Smile took over sole distribution in North America with the release of the POTF card.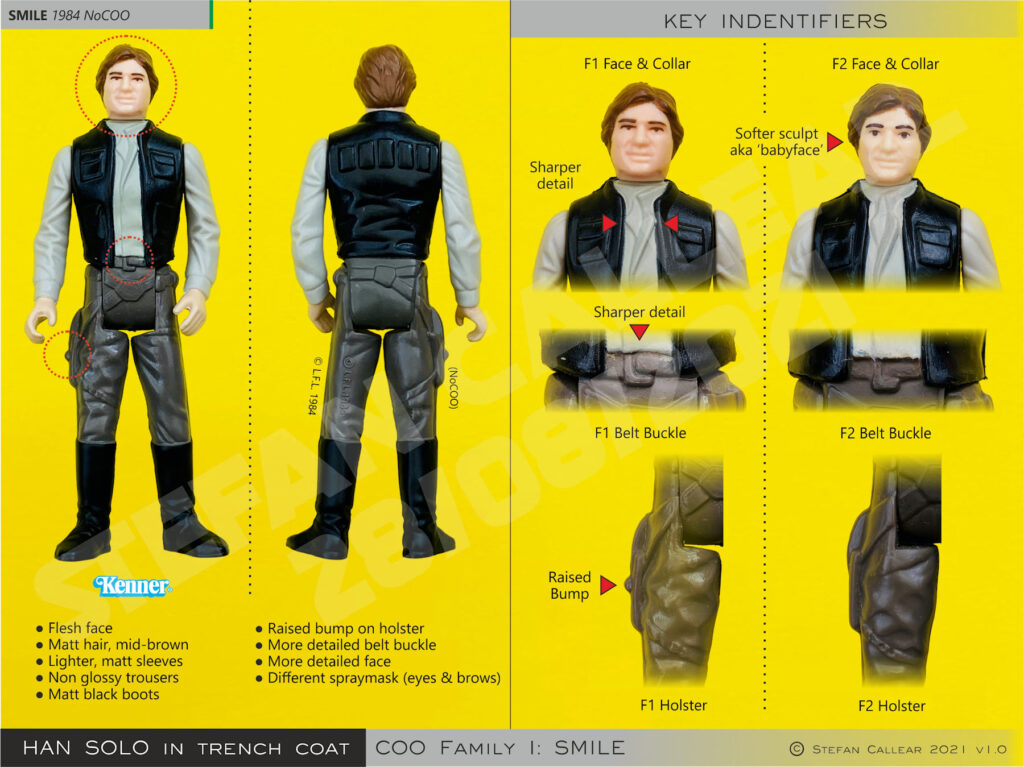 F1: SMILE 1984 NO COO
Debuting on the Kenner 77A card and shortly followed by the 77B and 79A, the Smile produced figure appears to be the most widely distributed of the Asian factories and ended it's run on both the POTF and Trilogo cards.
Some key sculpting details for the mould family 1 are:
Raised bump on gun holster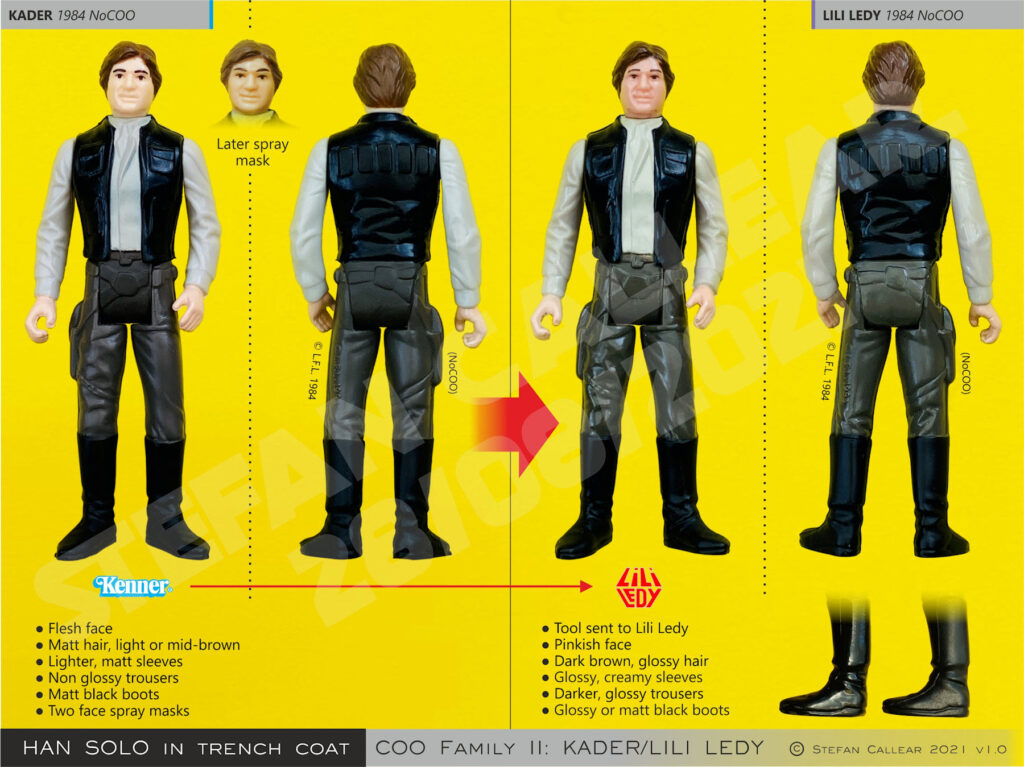 F2.1: KADER 1984 NO COO
Also appearing on 77A, 77B and 79A cards alongside Smile, the Kader figure had the shorter production run of the two Asian factories. There are two hair colour variants to look out for (light and mid-brown) along with an alternative spray mask used for the facial features which appears on some of the later 79A cards.
Some key sculpting details for the mould family 2.1 are:
Lack of sculpt detail on the collar & belt buckle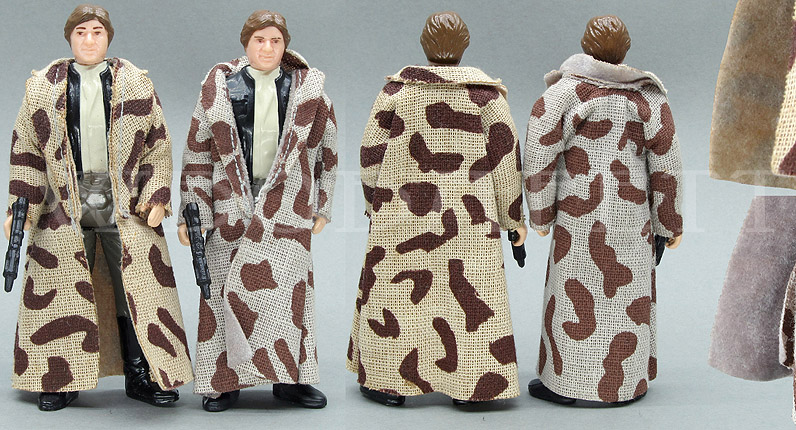 F2.2: LILI LEDY 1984 NO COO
Having moved the tooling to Mexico the figure sculpt remained untouched however the paint and plastics used by Lili Ledy differ a lot when compared to their Kenner counterpart.
Some key sculpting details for the mould family 2.2 are:
Darker brown, glossy hair
WOLFF: A very similar fabric was used for Han Endor coats compared to the Bib Fortuna coats. It looks like it is only used reversed and additionally sprayed with "camouflage" texture. But the Han cape has a fluffy lining that only was used for the burgundy coat Bib Fortuna. So the material in general differs a bit regarding the LL Bib Fortunas.
Two differently coloured fabrics can be noted on Han Endor. A brownish one and a greyish one are known. These colours are not result of fading or being dirty. Both my examples are mint and I have seen a lot more of both variants in years. It can be also noted that the brownish one always has a much darker tone used for the camouflage.
It is said that Han Endor also can come with a blue blaster, but to me the only correct blaster going with this figure is the black one.
You can also note two different heads on those pictured above. Facial details, the colour of the hair as well as the colour of the plastic seem to be really different.
For years collectors always associated a solid black rebel blaster with the Han Solo in trench coat figure. However recent MOC research has proven this to be untrue for both Kader and Smile factories.
F1.1: KADER 1984 NOCOO – EARLY RELEASE (77A)
F1.1: KADER 1984 NOCOO – LATER RELEASE (77A/B – 92A)
F1.2:LILI LEDY 1984 NOCOO
M2.2 Bespin blaster (wide handle)
F2: SMILE 1984 NOCOO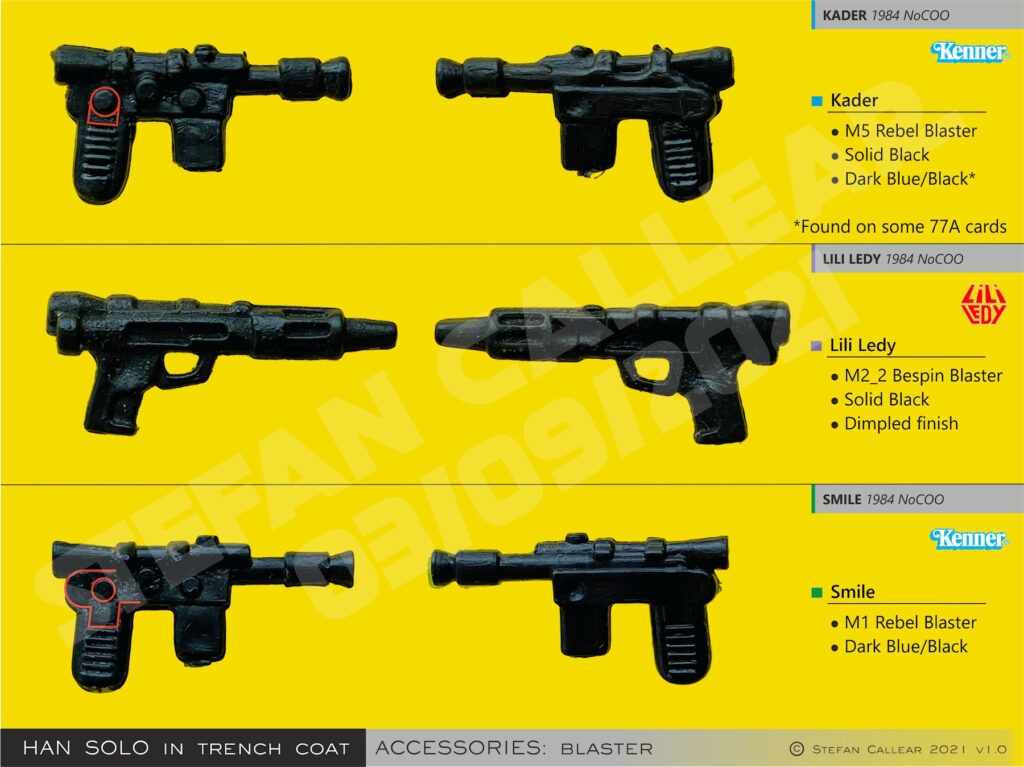 F1: SMILE 1984 NOCOO – EARLY RELEASE (77A)

Appearing on the debut 77A card only, some early era figures came with a unique 'camo' coat compared to the more popular later release.
Narrow waist, compared to F2 Kader 'Camo'

 
F1: SMILE 1984 NOCOO – LATER RELEASE (77A/B & 79A)

During the debut 77A run Kenner instructed Smile to modify the design of the coat. A signed QC sample can be seen over on the Star Wars Collectors Archive instructing Smile to make the following change "Brush side outward on collar per fax 11/18/83"
Larger curved lapels with triangle notch

 
F2.1: KADER 1984 NOCOO
Two versions of the trench coat co-existed and can be found on both 77A and 79A cards. However an example of the plain lapels has yet to surface on a 77B card, but it is highly likely to exist.
CAMO VARIANT
Straight edged lapels with square notch

Wide waist, compared to F1 Smile 'Camo'

 
PLAIN VARIANT
Straight edged lapels with square notch

 
F2.2: LILI LEDY 1984 NOCOO
This Lili Ledy accessory is very unique compared to any of its Kenner counterparts. The fabric used matches the Lili Ledy Bib Fortuna coat, but the material has been reversed during it's construction to give a more rugged look.