Han Solo Mercenário Estelar
DIFFERENCES: Compared to the Kenner counterpart, the Glasslite Han Solo has:
Moulded in harder plastic
Pale face, neck and hands
Lighter reddish hair
Lighter brown eyebrows
Brown eyes (Kenner has black)
Hand painted detail on hands
Excess mould flashing
Packaged with a solid black Jawa blaster
A Kenner figure with an identical COO is used for the comparison.
Poor QA also resulted in minor differences between batches.
Differences in paint applications
Hand painted & spray masked red strips on the legs
Mould Flash (seen here on the legs)
The Glasslite Han Solo came with a solid black Jawa blaster compared to the black/blue rebel blaster which came with the Kenner figure. Note that the Jawa blaster mould is identical to the silver version which came with the Princess Leia action figure.
WATER TEST
Both Blasters float when placed in water
Neither Blaster will sink if tapped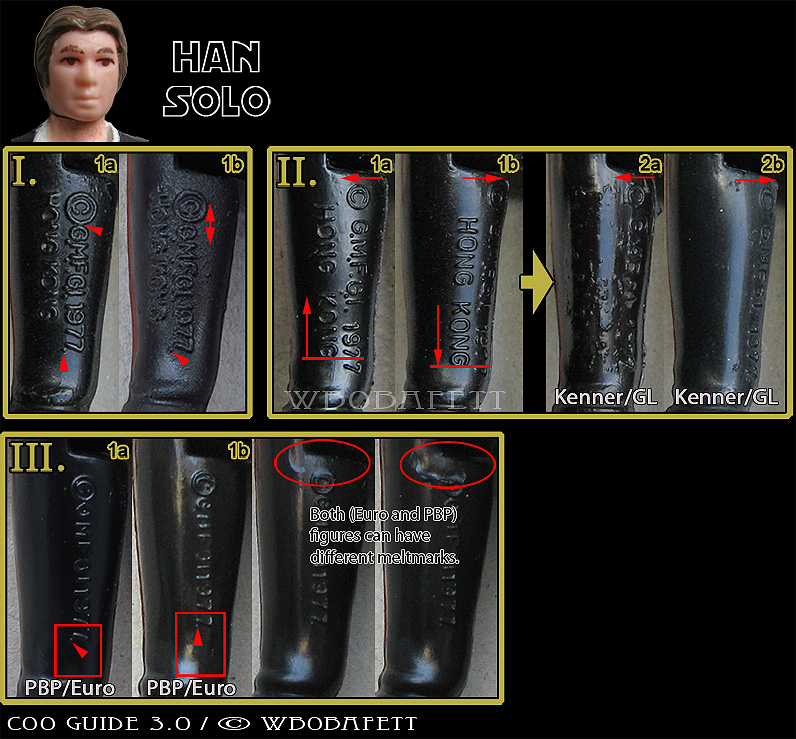 The Glasslite Han Solo belongs to COO family II this family contains two main COO marking variations.
The original mould tooling was stamped "HONG KONG" where the production for the earliest version of this figure took place. During the products life and possibly as part of a cost reduction exercise production was moved. There the country of origin "HONG KONG" was filled in to leave a smooth NO COO scar.
This version of mould tooling was later shipped to Brazil and used by Glasslite and is therefore common to both the Kenner & Glasslite.
The name plate label above the figure bubble was added during the final stages of production – judging from the random placement of these labels this process appears to have been manual rather then automated.
The name plates contained three pieces of information: the Character Name, Description and a Unique Reference Number
"Han Solo – Mercenário Estelar" translated into English meaning "Han Solo – Space Mercenary"
Glasslite used the same generic card artwork for all their figures, this method was echoed with their Droids product line.