Mexico is one of the very few countries that had acquired a license to produce the 3 3/4″ line of Star Wars action figures via Lili Ledy in 1982 and yet has produced a wide variety of bootlegs. No other country produced that many different bootlegs and in no other country we have that many producers or diversity in the implementation of realizing those. The reason might be simple. Besides the licensed production through the Lili Ledy company, the bootleg production was not in hand of larger factories. These were family businesses, small establishments, that made their own molds, their own machines to inject the plastic and hand painted them probably at home.
Kenner wasn't able to just export figures to the Mexican market. The Mexican protectionist trading laws back then did make that impossible. So Lili Ledy started licensed producing in Mexico in 1982.
But what also happened is that small businesses started to produce figures on their own, without license, to sell them in shops around for way less then the actual figures produced by Lili Ledy.
Even though the licensed figures from Lili Ledy were an actual success, because 50 different figures were produced till 1985, the small businesses with their bootlegs probably were also a success. Some of the molds are used till today, some were only used in the 80s, some small companies used overstock parts from Lili Ledy within, some try to copy the old molds to make money these days. Mexican bootlegs are a big "no-no" for many collectors, because there is such a variety and such large time frame these were produced. We have original 80s, original 90s, past 2000, fakes and copycats. If you haven't studied Mexican bootlegs you will surely be lost. This is the most vague collecting sector out there collecting vintage Star Wars 80s toys or bootlegs. Maybe you did notice, that there is not one guide out there one those? Or a book? For a reason if I might add. So I'm trying here to present and document 80s Mexican bootlegs and with the help of Daren Wilde's collection pictures show you what's out there and how to tell them apart from 90s or later.
Here is some samples of different packaging in the 80s and 90s on those to show the diversity and variety on those.
Pictures courtesy of Daren Wilde
1: La Guerra de las Galaxias BLUE (80s, but copied all along till past 2010)
2: La Guerra de las Galaxias COLORIZED (80s, but copied all along till past 2010)
3: El Regreso del Jedi (80s)
4: Guerra de Galaxias (80s)
5: No title (C-3po and R2) (80s)
6: Industrias Alsi SA (80s)
7: Forma tu coleccion! (80s)
10: Khetanna/Gamorrean Guard (90s)
11: Speederbike/Rebel Troop Transport (90s)
13: Androids Galacticos (90s)
I will start splitting them up in groups. These groups are mainly defined through the way the articulation point of arms, legs and heads are made. Also the groups don't mean inevitable that they are from the same producer. They copied each other, so I'm not thinking all semi articulated figures were made by the same small family business. They are not. But it is impossible to say nowadays if we had 5, 20, or 30 producers on all those figures, but there was a lot of them involved for sure.
LIMB CONNECTION COMPARISON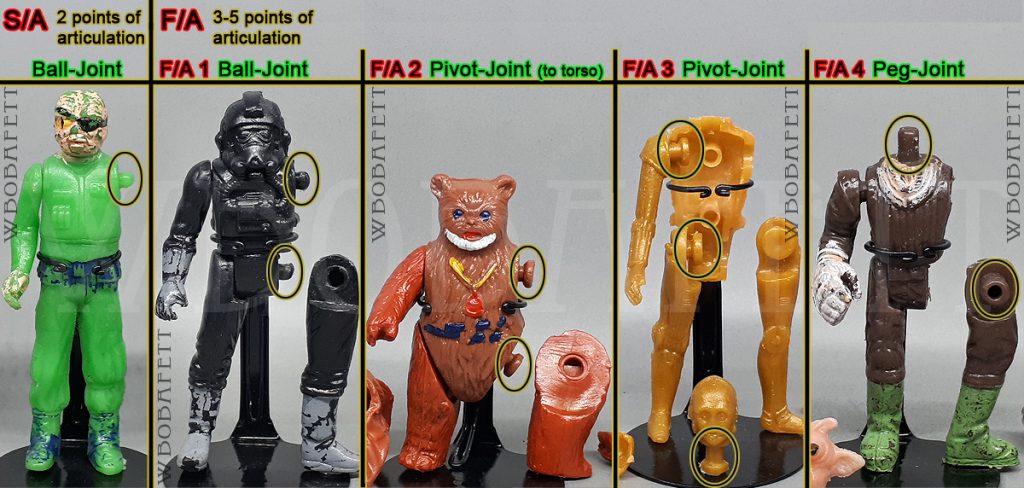 If you are trying to categorize Mexican bootlegs there is roughly three different groups: Unarticulated or static ones (no picture), semi-articulated ones (2 points of articulation, S/A) or fully articulated ones with 3-5 points of articulation (F/A1-4). Every group has its own sub categories, which will be explained in the specialized sections. As mentioned we have many producers here and the variety is huge.
Seen above is a picture that is showing roughly the different limb connections possible. The ball-joint was used for semi-articulated figures as well as for fully articulated figures. The limbs and sometimes head are snapped over a ball-formed joint onto the body.
The pivot-joints can vary: Sometimes the joints is mounted to the torso and rubber-like limbs are pressed onto them (F/A2) and sometimes those are more produced like Kenner figures with a split up torso and pivot-joints to the limbs. (F/A3).
Last but not least we have the possibility of simple peg-joints, where the limbs just plug into the torso. In case of Ree Yees (F/A4) the legs even plug into each other
Follow up the links given below for more information and pictures on the figures roughly split in unarticulated, semi-articulated and fully articulated.