Com pernas e bracos desmontáveis
DIFFERENCES: Compared to the Kenner counterpart, the Glasslite C-3PO has:
A matt gold painted finish
Is moulded in a harder plastic
Has a more predominant break off point between the legs
(C) L.F.L.1985 coo stamp instead of (C) L.F.L.1982*
No accessories
The closest COO relative with a "1982" stamp is used for the comparison below.
(*) Note the Kenner Droids action figure also shares the (C) L.F.L.1985 coo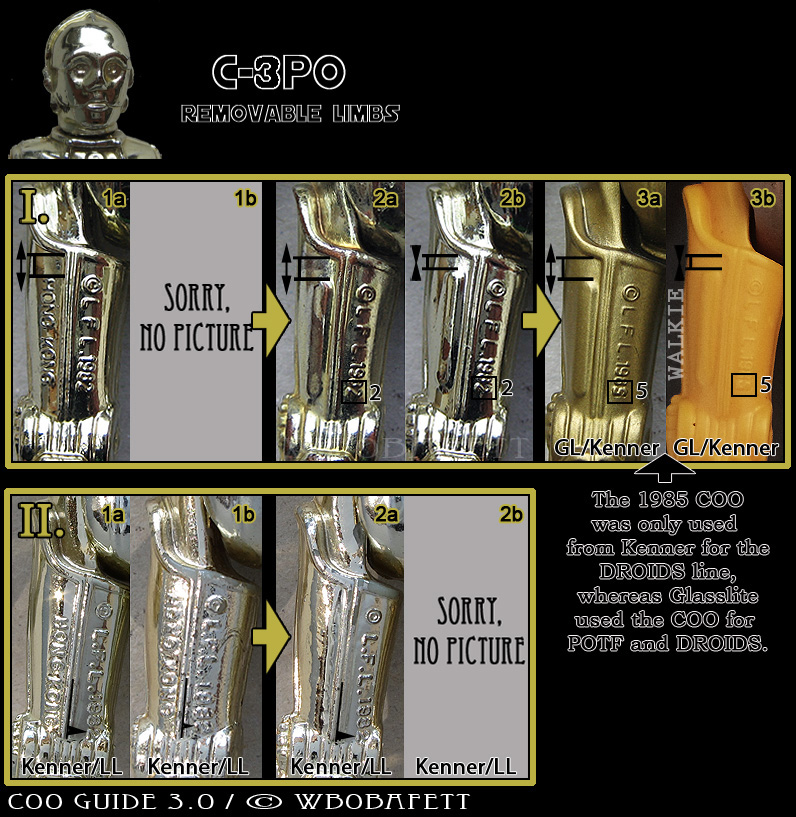 The Glasslite figure belongs to COO family I, this family contains three main COO marking variations.
By checking the parent COO with the "HONG KONG" stamp it's clear to determine where the production for the earliest version of this figure took place. During the products life and possibly as part of a cost reduction exercise production was moved to another country. There the country of origin "HONG KONG" was machined out of the mould tooling, this modification produces a "RAISED BAR" effect in the moulded figure.
The last modification took place for the Kenner Droids line changing the date from 1982 to "1985". This version of the mould tooling was later shipped to Brazil and used by Glasslite, therefore the "1985" COO is common to both the Kenner Droids & Glasslite product lines.
The name plate label above the figure bubble was added during the final stages of production – judging from the random placement of these labels this process appears to have been manual rather then automated.
The name plates contained three pieces of information: the Character Name, Description and a Unique Reference Number
C-3PO – "Com pernas e bracos desmontáveis" which in English translates to "With detachable arms and legs".
Glasslite used the same generic card artwork for all their figures, this method was echoed with their Droids product line.