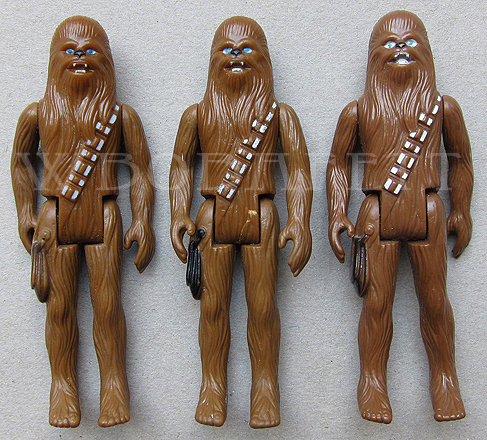 The Chewbacca in the middle on picture is assumed to be a Poch variant. I've heard of two others in existence and hope to receive pictures soon. Shown left is its COO counterpart from Kenner. To the right you can see the so called "PBP" Chewbacca, the related no COO (scarred out coo) version.
The auction pictures from a carded one that popped up recently on eBay don't help much to confirm this variant. If the owner of that card reads this by accident, please let me know if you can help. Other known carded examples disappeared in private collections without any pictures left.

The main characteristic here is definitely the colour of the pouch. The Poch version has a true black pouch which cannot be found on any other Chewbacca produced worldwide. What is also pretty unusual is the fact that the "dot" above the pouch has also paint on it (on the front and the back). This could be a hint to identify him, but it seems that others that were found recently don't show this characteristic. I will hopefully keep you updated with pictures.
The COO shown is the typical "Made in Hong Kong" COO known from several Kenner figures. Note: The dot above the pouch is also painted on the back. The torso also has a slight melt mark and is cracked to the front and the back. I haven't mentioned this until now, but lots of Poch figures seem to have "factory made" cracks. You can also see this on Leia Bespin and Vader for example.
I found out by accident that this Chewbacca has a bright orange glowing look under UV-light. I immediately tried this on all my other Chewbacca's from all over the world and can now say: Not one of them is glowing like that, not even close. I hope to confirm this soon on other examples.