The Imperial Hoth Rifle was usually released with the following combinations of color to figure:
Blue Imperial Hoth Rifle:
Black Imperial Hoth Rifle:
There are 4 main mold variations plus subvariants. More subvariants may exist. As a result of the fact that these were shot on a sprue tree in higher numbers the subvariants may vary heavily depending on the steelmold used.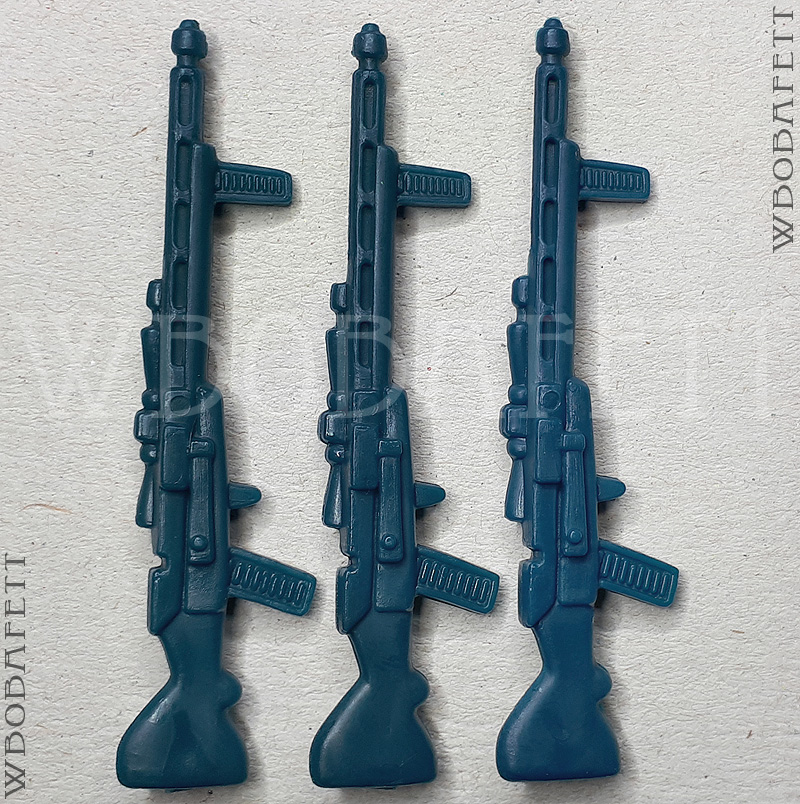 M1 was produced by UNITOY in Hong Kong. The following colours are known:
green-blue (semi-translucent)
greenish blue (semi-translucent)
blue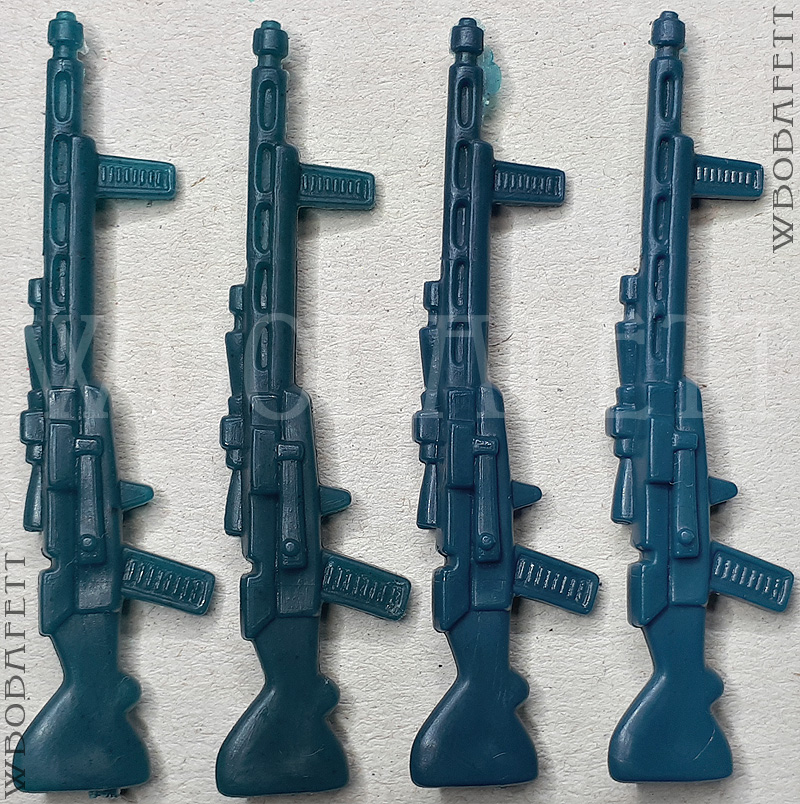 M2 was produced by SMILE in Hong Kong. The following colours are known:
green-blue (translucent)
green-blue (semi-translucent)
blue (semi-translucent)
blue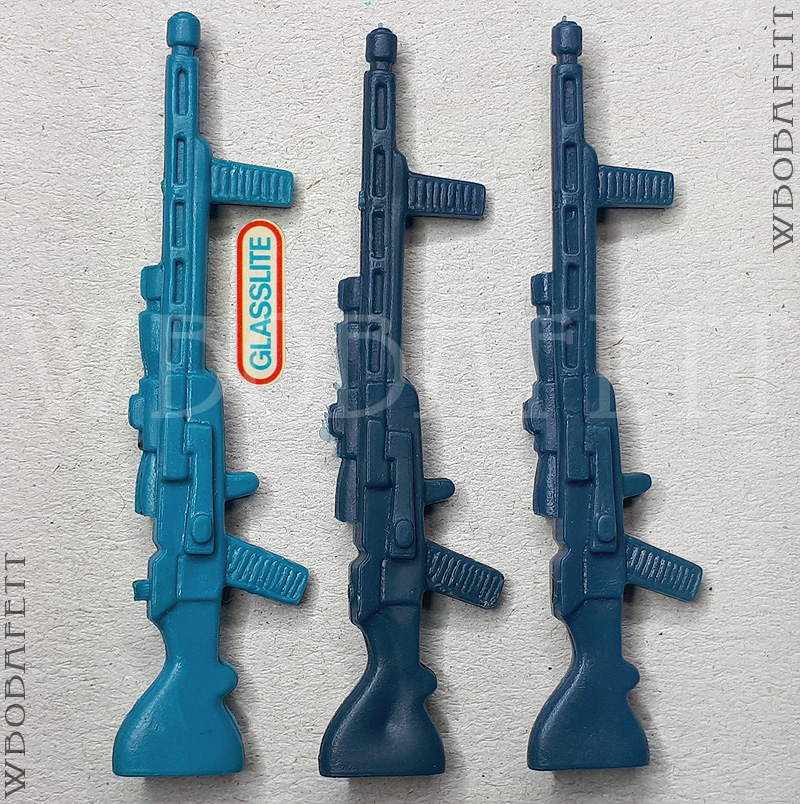 M3 was produced by KADER in Hong Kong. The molds were also used by GLASSLITE in Brazil for Imperial Stormtrooper (Hoth Battle Gear) and Vlix (DROIDS). The following colours are known:
light blue (GLASSLITE)
dark blue (semi-translucent)
blue
black (GLASSLITE)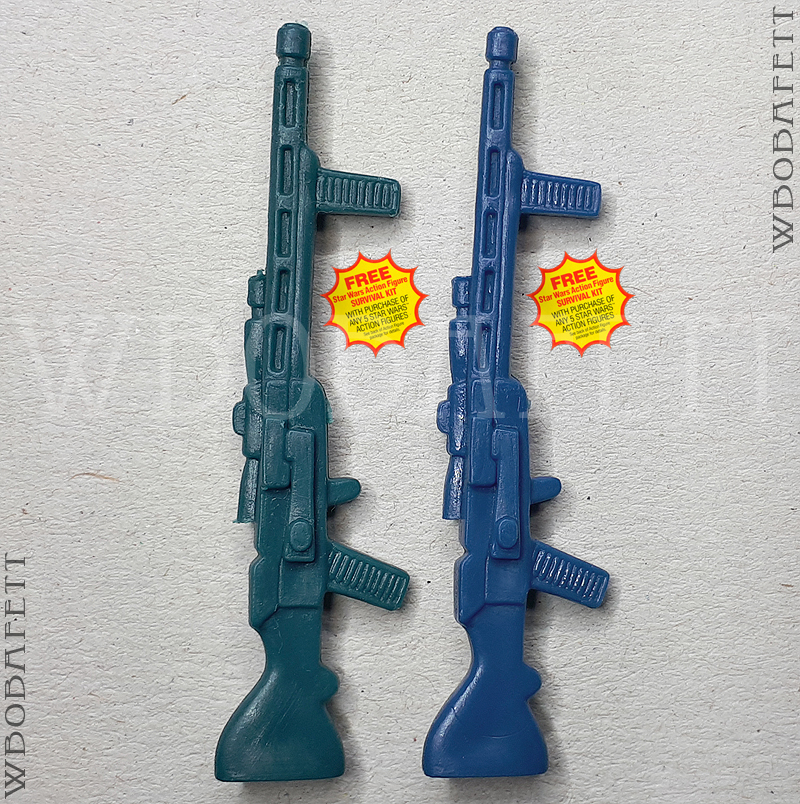 M4 was produced by KADER in Hong Kong. It was only released in the weapons pack "Survival Kit" from Kenner. The following colours are known:
This rifle was produced by an unknown factory for the "CSILLAGOK HÁBORÚJA" line in Hungary. The mould was only used in the 80s and came with their resident Imperial Stromtrooper (Hoth Battle Gear):
This rifle was produced by Wytwarzanie Artykułów z Zakresu Przetwórstwa Tworzyw Sztuczych for the "WOJOWNIK IMPERIUM" line in Poland. The mould was only used in the 80s (1985-87) and came with the resident Imperial Stormtrooper (Hoth Battle Gear). The figure itself appeared in white, black and red, whereas only one colour for the rifle is known till today:
This rifle is one out of two moulds that was produced by Elektrospółdzielnia (EVANPLAST) for an unnamed line in Poland. The mould was used in the 80s, 90s and 2000s (1985-2003). These were packed in baggies probably stapled onto cardbacks and sold as accessory sets. They are nowadays mostly paired with the figures that came from the same factory in the so called "Polish 1st, 2nd and 3rd Gen" lines. All those weapons came in a huge variety of colours over the years. Here is one example:
*Coming soon: second mould  produced by Elektrospółdzielnia (EVANPLAST)
This rifle was produced by SB PRODUCTS for the "UZAY Savaşçıları" line in Turkey. The mould was only used in the late 80s and came with Imperial Stormtrooper "İmparatorluğun Askeri" (black and blue rifle) and "Blue Stars" (white rifle):
white (broken tip)
blue
black-blue