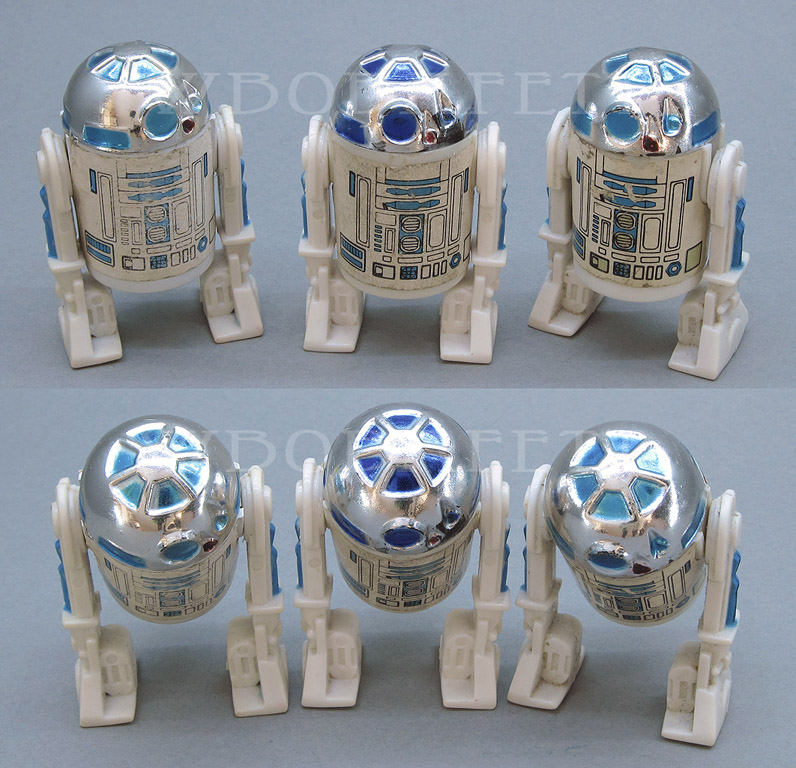 Mainly three variants can be found on R2. There is mixed up figures existing of all kind, because while changes in production happened, lots of overstock parts have been used and got mixed up. There are three different torsos, three different screws and three different stickers known and I think I have now the pure and unaltered three variants which matching screw, sticker and torso.
I'm starting with the figure in the middle. It is the infamous "1978 R2". This figure has a unique no coo with date stamp 1978 and is by far the most rare LL figure I think (not counting the attached hood Jawa). It is assumed that this example was already released on the "Imperio Contraataca" cards. The dome is unique and there was a very dark blue colour applied. There are also other unique features to the screw, the back of the dome etc which I'm keeping as a secret to make it harder for scammers to fake this one. I was able to confirm all those identifying points on all four examples known till today. I want to thank especially Ozio for his help on this.
What can be added is that all examples I have seen have the same sticker variant (see below) applied to the torso. I would say that this is the only correct figure for that sticker variant. I have seen it on one or two others but to me these are mixed up figures produced while production changed and some old overstock was used.
The left R2 has the "hard torso", the brass coloured screw and the sticker variant with the missing blue paint. The right R2 has the "soft torso", the silvery screw and the sticker with the greenish grey instead of light grey areas. There are also three slightly different coos known to the HK marked R2s on both, the hard and the soft torsos.
After years of research these are the three figures with the correct matching features all around: torsos, screws, stickers and domes as it should be.

This is a picture which shows the comparison of all three LL sticker variants. First is the one with the missing blue paint (see the red circle). The second one has really light grey areas (see arrow). The picture doesn't show this very well, but they are indeed grey, not white. Last one is the sticker variant with the greenish grey areas printed on.